---
---
---
---
---
---
---
---
---
---
---
---
---
---
---
---
---
---
---
---
---
---
---
---
---
---
---
---
---
---
---
---
---
---
---
---
---
---
---
---
---
---
---
---
---
---
---
---
---
---
---
---
---
---
---
---
---
---
---
---
---
---
---
---
---
---
---
---
---
---
---
---
---
---
---
---
---
---
---
---
---
---
---
---
---
---
---
---
---
---
---
---
---
---
---
---
---
---
---
---
---
---
---
---
---
---
---
---
---
---
---
---
---
---
---
---
---
---
---
---
---
---
---
---
---
---
---
---
---
---
---
---
---
---
---
---
---
---
---
---
---
---
---
---
---
---
---
---
---
---
---
---
---
---
---
---
---
---
---
---
---
---
---
---
---
---
---
---
---
---
---
---
---
---
---
---
---
---
---
---
---
---
---
---
---
---
---
---
---
---
---
---
---
---
---
---
---
---
---
---
---
---
---
---
---
---
---
---
---
---
---
---
---
---
---
---
---
---
---
---
---
---
---
---
---
---
Mouri Kogoro is called to a special case in the ancient capital of Kyoto. There, Conan meets Heiji and they team up once again to solve the case, recover the stolen Healing Buddha statue, and even discover the identity of Heiji's first love.
---
---
---
---
---
---
---
---
---
---
---
---
---
---
---
---
---
---
---
---
---
---
---
---
---
---
---
---
---
---
---
---
---
---
---
---
Kiina Review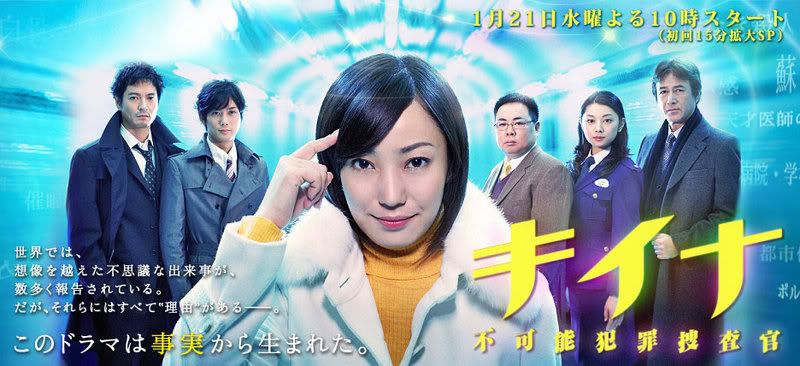 * Title: キイナ
* Title (romaji): Kiina
* Tagline: 不可能犯罪捜査官
* Tagline (romaji): Fukano Hanzai Sosakan
* Tagline (English): Impossible Crime Investigator
* Format: Renzoku
* Genre: Detective, mystery
* Theme song: ChaNge the WoRLd by MiChi
Casts:
* Kanno Miho as Haruse Kiina
* Hiraoka Yuta as Yamazaki Takeru
* Tsukaji Muga as Kudo Shinichiro
* Koike Eiko as Endo Sakura
* Tonesaku Toshihide as Hattori Koji
* Sakura as Tamai Yumi
* Takahashi Ryosuke as Hanada Yosuke
* Sonoda Anna (薗田杏奈) as Uchida Maki
* Kaneda Akio as Tsuda Akihiko
* Kusakari Masao as Mitarai Shuji
* Sawamura Ikki as Miyabi Kazuma
Guests
* Shiraishi Miho as Koda Ayaka (ep1)
* Katsumura Masanobu as Dr. Saginuma (ep1)
* Kubota Masashi (久保田将至) (ep1)
* Yamazaki Kenji (山崎健二) (ep1)
* Kirishima Reika (霧島れいか) as Tanaka Shizuko (ep1)
* Maido Yutaka (まいど豊) as Tanaka Hideo (ep1)
* Nakamura Shuga (中村柊芽) as Tanaka Yuta (ep1)
* Kawashima Umika as Fukada Yukino (ep2)
* Otaka Hiroo as Fukada Yuzo (ep2)
* Kato Kazuko as Fukada Akiko (ep2)
* Kakazu Issei (嘉数一星) as Fukada Satoshi (ep2)
* Konno Mahiru as Shibusawa Hitomi (ep3)
* Yamazaki Shigenori as Shibusawa Keigo (ep3)
* Matsuo Toshinobu as Kawano Hiroshi (ep3)
Story:
At first glance Haruse Kiina is a completely normal 29-year-old. However, Kiina is the head of a special investigation unit nicknamed "Beppan" which deals with strange cases. With an unorthodox approach to solving crimes, she draws on her exceptional memory and powers of observation, and gets so absorbed in the pursuit of these cases that she forgets to eat or sleep til she solves the mystery.
---